Recycling - WEEE and Batteries
The EU Directives on Waste Electronic and Electrical Equipment (WEEE, 2012/19/EU) and on batteries and accumulators and waste batteries and accumulators (2013/56/EC), and the corresponding national legislation have the aim of promoting the recycling of WEEE and batteries.
WEEE take-back
As a distributor of electronic and electrical equipment, Canon Europa N.V. must facilitate the take-back of household WEEE from UK consumers and has decided to fulfil its obligations in this area by joining the Government approved "Distributor Take-Back scheme" (DTS) set up by Valpak (Membership number 303651). By joining the Valpak scheme, Canon Europa N.V. is contributing to the establishment of a network of Designated Collection Facilities (DCF) where consumers may dispose of their WEEE free of charge for recycling and treatment in an ecologically sound manner. A list of approved collection sites near you is available from: www.recycle-more.co.uk. As a consequence of our membership of the Valpak scheme, Canon Europa N.V. will not accept returns of household WEEE itself and cannot accept WEEE returns for recycling, neither do we make arrangements for its collection. Each local authority must also accept household WEEE and small batteries free of charge at its recycling facilities.
Battery take-back
Empty batteries can be returned to the following address:
Canon Service Centre Unit 160, Centennial Park, Centennial Avenue, Elstree, Hertfordshire, WD6 3SG
Alternatively, you can find a battery collection point close to you via www.recyclenow.com.
Meaning of symbols
The symbols indicate that this product is not to be disposed of with your household waste, according to the WEEE Directive (2012/19/EU), the Battery Directive (2006/66/EC) and/or national legislation implementing those Directives.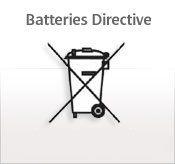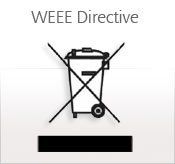 If a chemical symbol is printed beneath the symbol shown above, in accordance with the Battery Directive, this indicates that a heavy metal (Hg = Mercury, Cd = Cadmium, Pb = Lead) is present in this battery or accumulator at a concentration above an applicable threshold specified in the Battery Directive.
Avoiding environmental impacts
Improper handling of this type of waste could have a possible impact on the environment and human health due to potentially hazardous substances that are generally associated with EEE. Your cooperation in the correct disposal of this product will contribute to the effective usage of natural resources.
Further information
For more information about the recycling of this product, please contact your local city office, waste authority, approved scheme or your household waste disposal service. Canon Europa N.V. is registered as a producer of electronic equipment in the UK under number WEE/AD5687ST.